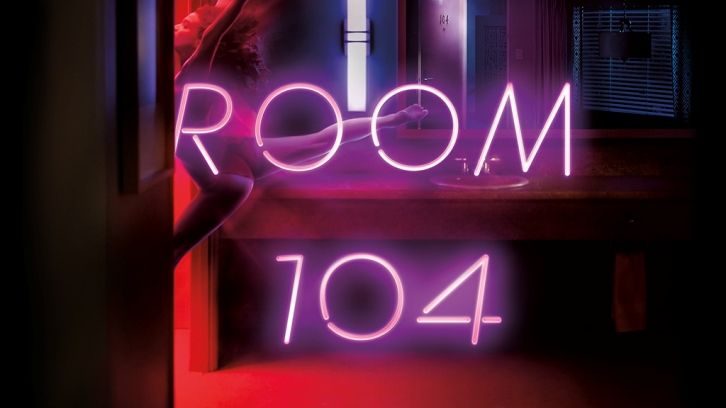 WARNING: Please don't read if you haven't seen Room 104 4×03 Avalanche yet! SPOILERS AHEAD!

Finishing this week's new edition of the final season of HBO's late night anthology, Room 104, I couldn't help but notice that Mark Duplass wrote the script for it. This marked the third time in a row he wrote one of this season's episodes. As such, 04×03 Avalanche feels like the final chapter in an successful alternative reality triptych with the two previous episodes. "Avalanche" represents an unexpected culmination in the theme of a mystery wrapped in a fragmented memory.
We are never sure what exactly happened and what was imagined in this episode where the lead character, Doug (Dave Bautista), an ex-professional wrestler recounts a wrestling move gone wrong (or is it?) to Tamara (Natalie Woolams-Torres). Who Tamara is exactly is never fully explained. I assumed she is a court-appointed therapist, but she could be his attorney, a nurse in a mental ward, a detective, or a hundred other things. Heck, she could be a housekeeper for all we know. She also could be a representation of his conscience. Or just Doug rationalizing the events to himself and imagining her to help him through his ragged bag of emotions. He does call out for her at the end, only to receive no response. It is also never certain if Doug is ever actually in the titular room. Yes, we see a representation of Room 104 in the beginning, only to see Doug's action figure populate a doll house version of the room.
Yes, we see lots of dolls in this episode and that is no accident. Characters become dolls in one shot, only to re-emerge as human in the next. We are introduced to Doug as his action figure alter ego, Raw Dawg Avalance. We also meet his nemesis, Doctor Destruction, as an action figure. Not showing them as human was a smart move by the producers and director since watching them wrestle in their costumes would have taken the episode in a comedic direction it doesn't need. Watching the dolls reminds one of the Todd Haynes' short film, The Karen Carpenter Story, where the use of actual dolls as the characters were able to mimic actual emotions possibly better than real actors ever could and the make the presentation much more disturbing and compelling.
So what does Doug suffer from that is causing all of the mental fragmentation that we, the viewers, are witnessing here? It could be multiple concussions. It could also be chronic traumatic encephalopathy (CTE). This is a mental illness that cannot be diagnosed when a person is living, but Doug displays many of the symptoms, from memory loss, trouble walking, and impulsiveness. Luckily, this episode is not a preachy condemnation of the entertainment (or sports) industry for allowing such professions to have such awful, unintended physical consequences, but it definitely is a part of the subtext here. If this is what Doug suffers from, it would make sense to be engaged in some sort of doll therapy to work through these issues.
But, that still doesn't help us determine if anything ever actually happens in Room 104. The only clue we get if Doug's father bashed his head against the end table in the room when he was much younger (Evan Girard-Sun). We see a gurney and wonder who is under it one point. Doug could have done things to himself, but perhaps his father is to blame for that potential self-abuse? The dolls are constantly changing. Some have a wig of hair that disappears in a few shots. Some have voices that go away. In the end, we see Doug in Room 104 with human-sized dolls, not action figures, that eventually disappear, leaving Doug with his thoughts after an emotional cascading down of events in a dramatic recollection, like an avalanche.
We are not even sure of Doctor Destruction existed. Tamara even tells Doug he didn't. But, was that reliable information? In the scene in the bar, we see Doug dressed in his wrestling costume and hear "In the Hall of the Mountain King" being played with guitars instead of an orchestra. Perhaps Tamara's words angered him and he imagines himself as the wrestler when he is upset? Perhaps Doctor Destruction is just a doctor holding a stethoscope? Apparently, his father was an actual doctor, so it is not a stretch to suggest that the "destruction" could've been some form of sexual or physical abuse we are never clear about occurred. If Doug's neck had been broken when he was younger, he could never had gone on to have a professional wrestling career, so my guess is the injury all metaphorical to his current physiological condition. He told Tamara that he won the championship the week before, now is he says Doctor Destruction beat him. Which was it? I am apt to believe even Doug doesn't really know the answer. All we see a messy rubric's cube of events that Doug is attempting to place together to create a coherent flow. Sorry, this episode is less than a 1/2 hour. We don't have time for those types of resolutions.
What we know is that this is not an investigation. At first, I thought Doug was accused of a crime he didn't remember committing, but that is not the case here. It seems more and more like a therapy session. He might be working his way through some repressed memories of abuse through affect, kind of like the female protagonist did in the previous episode. Was this an effective session? There is an emotional climax where all of the fragmented memories and imagined occurrences come tumbling down on Doug emotionally. Tamara goes away in the end. Does that mean that Doug has made peace with this traumatic past? If so, how long will it last? Is this a weekly session he goes through or a one time pathworking ritual? Has Doug figured out the truth, since Tamara cannot tell him what exactly happened so she won't manipulate his progress?
This is a journey only Doug can make out on his own. I would assume this would include Room 104 viewers. Maybe it is better Doug doesn't know the truth. Living in a state of confusion might make him happier since he is able to blame Doctor Destruction for his problems and not his own actions. Out identities and the way we see ourselves, are always fragile and at risk of being washed away by traumatic events like what an avalanche does to a landscape, leaving an uncovered mountain, like Doug's bald head. We may not suddenly like what we see, but it is our truth that we imagine ourselves away from.
Of course, incoherence like what we see here might be the only truth. Our perception of reality is always being filtered through logic filters in the brain through a learned version of what we think is reality. We end the episode not with a hokey explanation or a shoehorned moral, but feeling like Doug has found himself finally through this session. We are never sure if the young boy is Doug or his own son. Perhaps Doug is both the boy and wrestler version at the same time and that there is no father. As usual, it is up to the viewer to find their own identity and perception in all of this. Perhaps we are always our own younger selves always one step away from being abused and beaten by our adult selves in a demanding and potentially dangerous career? I'm not sure, but confusion sure feels like a warm security blanket in these pandemic times with episodes like this to lull us to an unpleasant slumber we lie to ourselves when we call it "dreaming," since that could be what we are really doing when we're awake and remembering everything that got us to where we are now.
var authorcode="VG";